Personal Training
According to the latest studies of major international organizations (ACE, ACSM, IHRSA) on the top trends in the Fitness industry, Personal Training is clearly the most popular trend over the last decade. Personalized exercise under the personal supervision of qualified personnel is now one of the most attractive choices in the field of mass sports for recreation and health. A specialization in Personal Training, puts exercise professionals at the forefront of a global market with great potential and provides important career opportunities.
Personal Training Pro level 1 - Fitness Assistant (EREPS EQF level 2)
The Fitness Assistant works under the supervision of the Fitness Instructor. His/her duties consist of guiding a safe workout, explaining programs and exercises, spotting and supervising healthy adults in the muscle strengthening and aerobic exercise areas of gyms, sports centers, hotel units etc. The theoretical knowledge and the practical skills he/she acquires focus more on the wider field of wellness, on the Resistance Training-related coaching range, on free weights, conventional machines, body weight, elastic resistances, medical balls, aqua fitness, etc., and on improving flexibility.
Basic concepts and definition of Fitness

Mythology of Fitness

Equipment types

Weight training exercise

Orthosomy

Body types

Benefits & adjustments of resistance exercises

Types of exercises & loads

Science of sets & repetitions

Top & common workout errors

Cardio-respiratory exercise (equipment, exercise parameters)

Portable heart rate monitoring

Beginners-adaptation program

Strengths & flexibility

Assistance technique (Spotting)

Physical weight exercise

Elastic resistances exercise (Tubes, Rubberbands)

Ball exercise (Fit Ball - Mini Ball - Medicine Ball)

Gymstick exercise

Aqua Fitness

Anatomy - Kinesiology I

Physiology of Exercise I

Nutrition Exercise and Health I
Personal Training Adv level 2 - Fitness Instructor (EREPS EQF level 3)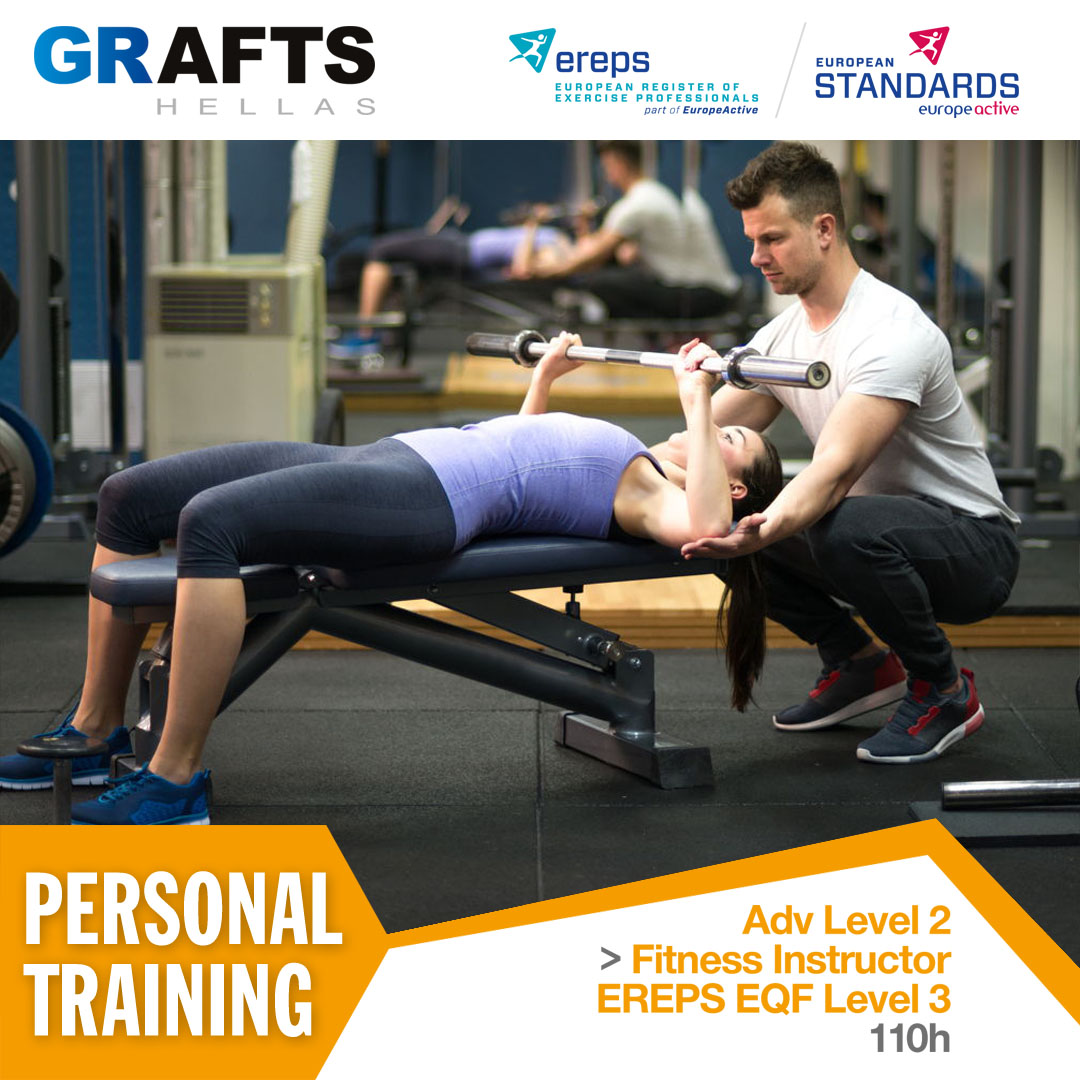 The Fitness Instructor personally guides the exerciser in personal or small-scale group sessions. His role is to ensure not only the guidance of a safe workout and the exercise supervision, but also the design of programs for healthy adults in the muscle strengthening and aerobic exercise rooms. The theoretical knowledge and practical skills he acquires focus more on the broader field of physical fitness and on the training range associated with the design of programs, methodology and training systems for each objective and training periodicity.
Exercise categories & classification

Muscle strength, hypertrophy, power, endurance training

Coaching principles

Personal health record

Annual exercise planning

Aerobic training & resistance systems & methods

Customized programs design - case studies

Exercise safety - special & controversial exercises

Work communication and behavior problems

Functional Training

Exercise for children, adolescents and the elderly

Physical activity and exercise recommendations for healthy adults

Suspension Exercise Introduction

Kettlebells Introduction

Vibration Introduction

Total Functional Training (TFT) Introduction

Anatomy - Kinesiology II

Physiology of Exercise II

Nutrition Exercise and Health II
Personal Training Elite level 3 - Personal Trainer (EREPS EQF level 4)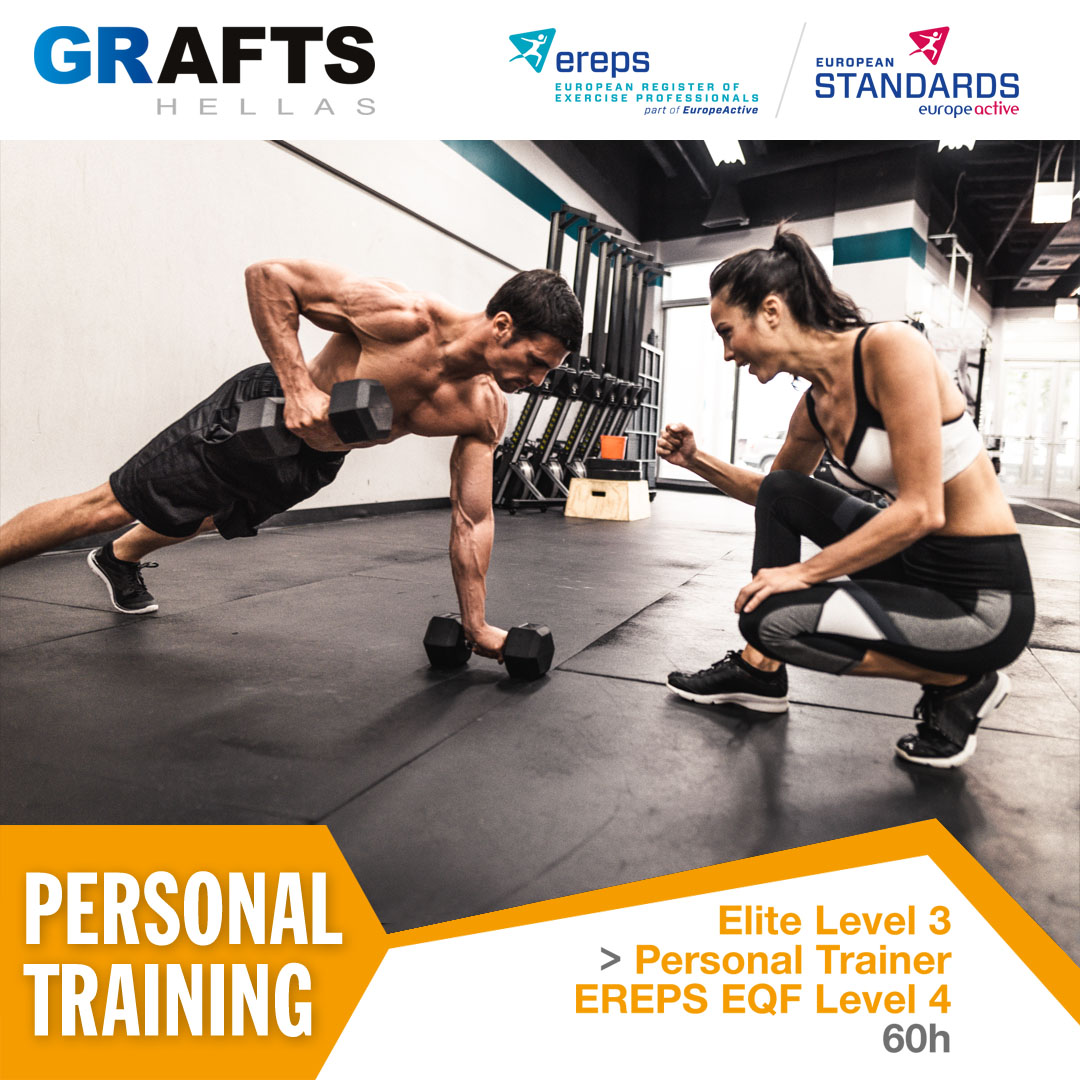 The Personal Trainer is employed as an exercise professional who personally supervises the client in one-to-one sessions. Her primary role is to ensure the guidance of a safe and effective workout through exclusive personal supervision. She designs fully tailored exercise programs for healthy individuals as well as people of special populations (low or moderate risk) following medical approval. The theoretical knowledge and practical skills she acquires focus on the field of physical performance and the coaching range associated with advanced program design, specialized methodologies, specific training systems for each objective and advanced training periodicity.
High-intensity interval training (HIIT)

Body composition analysis and client diagnostic tests-measurements

Training periodicity and suggested models

Overtraining & stabilization of performance

Contemporary exercise guidelines for special populations

Proprioception and kinesthetic training

Musculoskeletal injuries of basic joints

Special training systems for maximizing muscle endurance performance

The size principle in muscle recruitment

Acute anabolic hormonal responses in resistance exercise

Enterprise, organization, sales, promotion

Profile decryption of the modern International Personal Trainer

Client psychology & character management

Athletic nutrition, overtraining, ergogenic aids, physique
Personal Training Sp level 4 - Weight Management Exercise Specialist
The Exercise Specialist in weight management is employed as a specialized Personal Trainer who personally oversees individual cases of physically inactive and overweight or obese clients. He provides his services exclusively in one-to-one sessions and works as a member of a wider multidisciplinary team. His role is to ensure both the guidance of a safe workout and the consultation and follow-up of clients aiming exclusively at their body weight management. He evaluates, plans and customizes personally supervised exercise programs for clients with obesity, while his theoretical knowledge and practical skills focus on the broader field of exercise & health.
The role of the Exercise Specialist in body weight management
The Exercise Specialist as a member of a multidisciplinary team
Definition and diagnostic criteria for overweight and obese individuals
Epidemiological data at national, European and global level
Obesity causes
Obesity pathophysiology
Intervention in the lifestyle of overweight and obese individuals
Diet for overweight and obese individuals
Psychosocial aspects and management of overweight / obese people
Health and physical condition assessment tests for overweight and obese individuals
Laboratory and practical application in health and physical condition assessment procedures for overweight and obese people
Training adjustments for body weight management
Design of exercise programs for weight management
Methodology and training periodicity for weight management
Case studies: hypothetical individual case analysis & round table