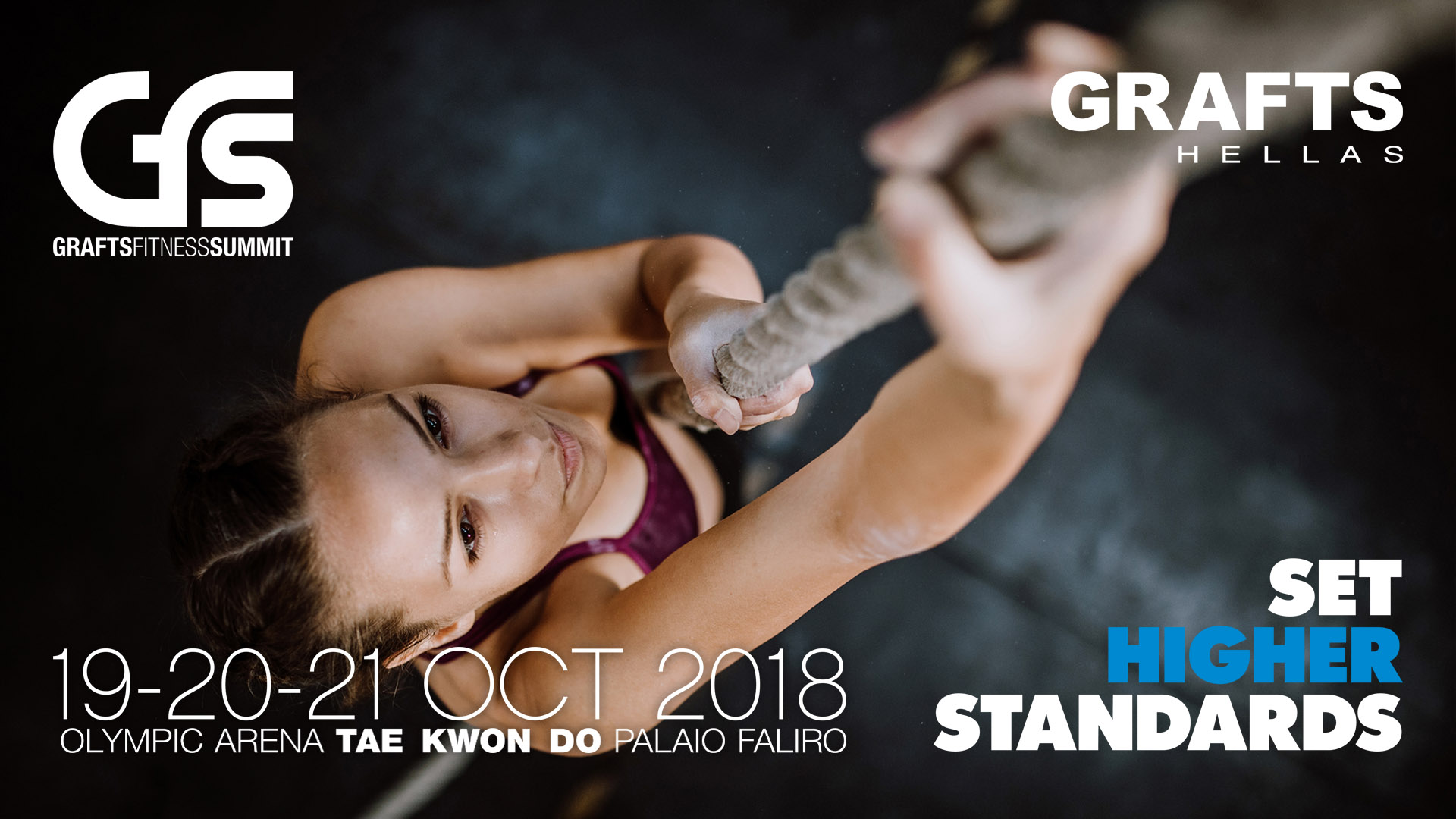 ATHENS - 14 AUG 2018 - GRAFTS Hellas announces the organization of the 6th GRAFTS Fitness Summit 2018, to be held on 19, 20 & 21 October 2018 at the Tae Kwon Do Olympic Arena, Palaio Faliro in Athens.
GRAFTS Fitness Summit is establishing itself as a large annual meeting of Fitness professionals in Athens and southern Greece, with topics that address all the major fitness fields (Personal Training, Group Fitness, Pilates & Yoga Training), reflecting the current trends and concerns.
GRAFTS is the only educational provider in the fitness sector in Greece that holds two annual conferences in Athens and Thessaloniki, in order to provide tangible opportunities for professional, scientific and personal development to all those who are professionally engaged in the Fitness & Wellness markets (exercise professionals, physiotherapists, undergraduate students, students of private educational providers, dancers and exercisers).
The Summit objectives are:
Strengthening and updating the knowledge of exercise professionals through the latest and safest scientific developments,
Introduction of new services and products in line with European and world market standards,
Enhancing the networking between the attendees, but between them and the companies that participate and support the event,
with the ultimate goal of promoting public health through exercise,
with the ultimate goal of promoting public health through exercise.
This year's event is extended, by adding one more day (Friday 19/10/2018), resulting in the 6th GFS 2018 lasting three days:
3 major thematic areas of the Personal Training, Pilates and Yoga fields, called Medical Fitness Symposium (9 hours), Pilates Teachers Meeting (6 hours) and Yoga Teachers Meeting (7 hours) respectively,
5 Special Events (ACE Teen Fitness Workshop, Dance Aerobic Workshop, Dark Fitness Marathon II, Group Fitness Graduates Meeting, 2017-2018 Educational season Graduation Ceremony).
A total of 41 training sessions and 20 sessions will be held by 24 presenters. The invited presenters will be the distinguished international fitness experts David Kim (US) and Patrick Bejjani, MSc (LB), who will be accompanied by leading Greek and Cypriot experts.
Save the date and we'll be glad to see you at the 6th GRAFTS Fitness Summit!
Best,
GRAFTS Hellas
Greek Athletic & Fitness Training School
The Greek Athletic & Fitness Training School (GRAFTS) is the leading private Fitness Training Provider in Greece and Cyprus. It is an Education Partner of the American Council on Exercise (ACE) and the first Fitness Training Provider in Greece with an educational program fully accredited by EuropeActive. GRAFTS is enrolled in the Lifelong Learning Record of the Greek Ministry of Education, providing certificates in the fields of Personal Training, Exercise to Music, Pilates Training and Yoga Training.