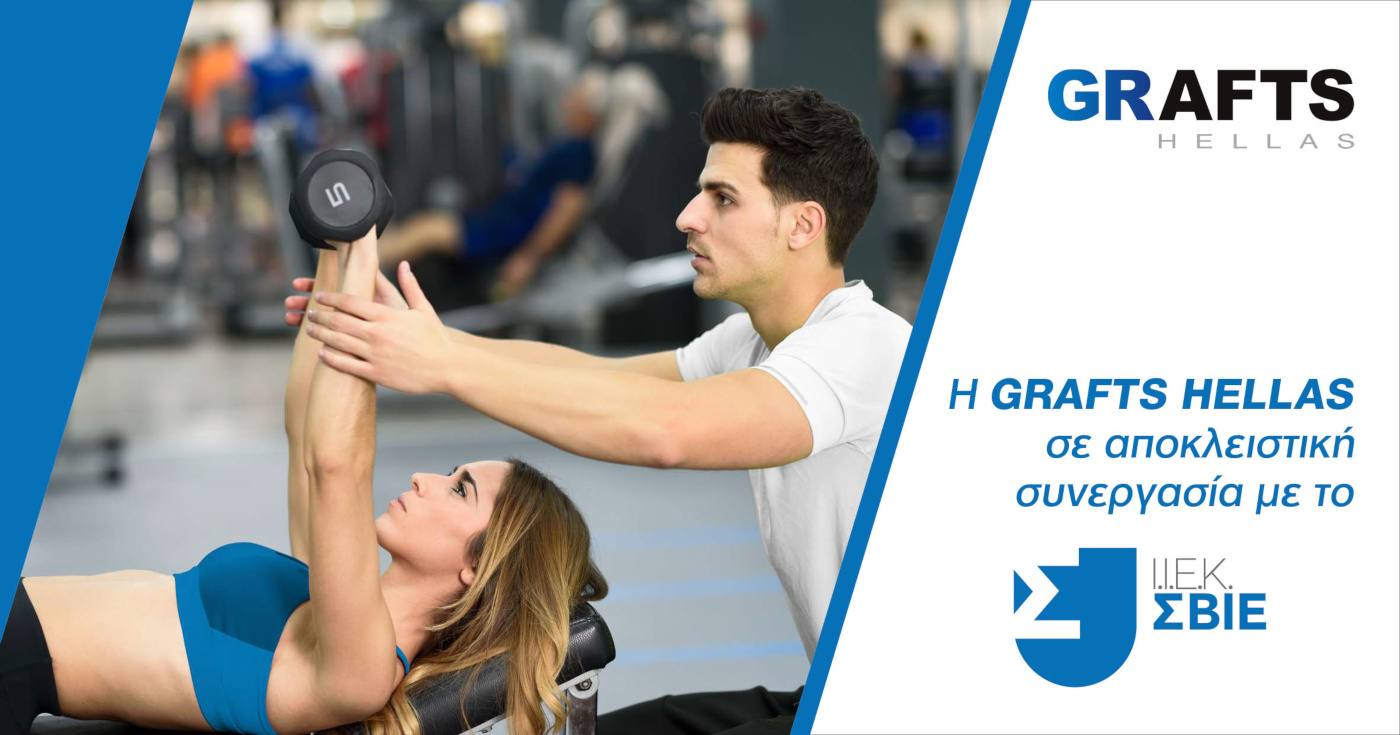 ATHENS - 06 MAY 2019 - The Greek Athletic & Fitness Training School (GRAFTS), the largest educational provider in the field of Fitness in Greece and Cyprus, and IEK SVIE, announce the beginning of their cooperation as part of the upgrading of their program offerings.
The experience and know-how of the two institutions in the fields of Mass Sport and Health were the starting point for an innovative partnership that broadens the educational and professional horizons of their students.
SVIE, with the prestige and credibility of the first vocational training institution for health professions in Greece, seals its dynamic entry into the field of Sports and Coaching through this collaboration with GRAFTS, which is an education partner of the American Council of Exercise (ACE) and at the same time the first (2013) training provider in Greece with an education program fully accredited by EuropeActive.
The two organizations co-formed and jointly offer the 'Fitness Pro' professional specialization and competence program.
Students and graduates of IEK SVIE will have the opportunity to acquire important professional skills by attending accredited programs in cutting edge subjects such as Personal Training, Group Fitness, Functional Training, Pilates, Yoga, and others, as well as join the process of integration into the labor market, according to their specialty, in the gyms with which GRAFTS cooperates and which staffs throughout Greece and Cyprus. At the same time, the members of the GRAFTS professional community will be able to benefit from the unique learning experience offered by IEK SVIE, as well as the upgrade of their formal (possibility to acquire a professional license) and essential qualifications (possibility to participate in educational programs of the Exercise and Health sciences), via studying Coaching, Physiotherapy, Dietetics, etc.
The high quality educational services of IEK SVIE and GRAFTS, their international and national certifications, the network of partners in Greece and Europe, the increasing rate of professional integration of their graduates, as common elements of their educational presence, compose the profile of a dynamic partnership, aiming at the formation of well rounded professionals.
Greek Athletic & Fitness Training School
The Greek Athletic & Fitness Training School (GRAFTS) is the leading private Fitness Training Provider in Greece and Cyprus. It is an Education Partner of the American Council on Exercise (ACE) and the first Fitness Training Provider in Greece with an educational program fully accredited by EuropeActive. GRAFTS is enrolled in the Lifelong Learning Providers Record of the Greek Ministry of Education, providing certificates in the fields of Personal Training, Exercise to Music, Pilates Training and Yoga Training.