Gold Card
Gain access to all the Summit's events with the 7th GFS Gold Card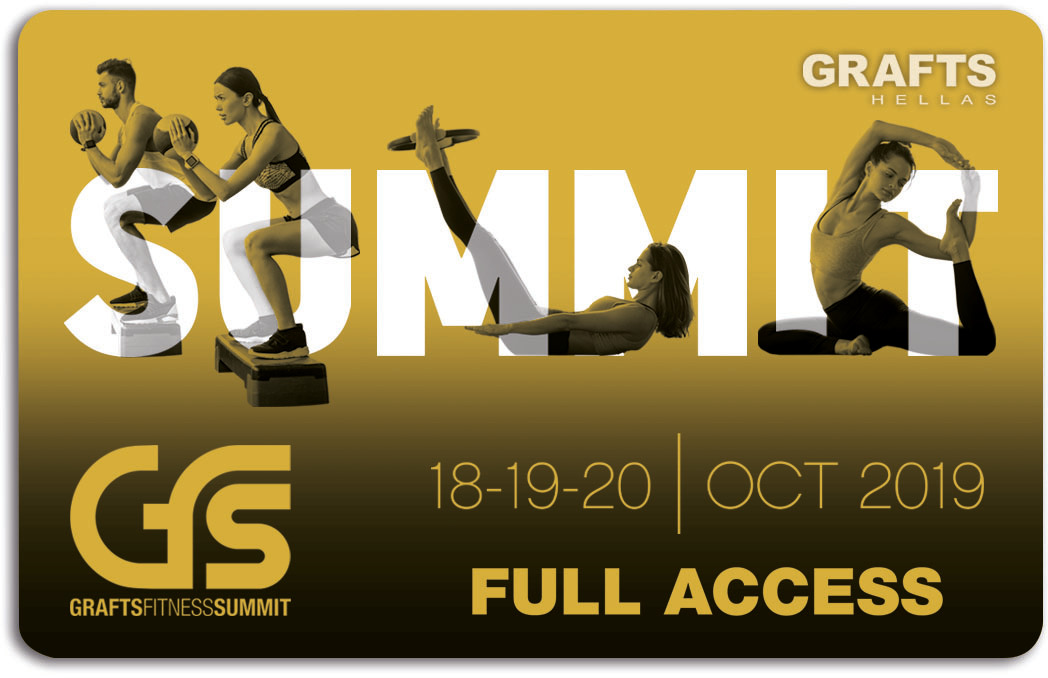 Benefits
Dossier with Summit material
Presentations' proceedings (where provided by the Presenters)
Certificate of Attendance per event
The Summit provides medical support. Summit Doctor: Paschalis Voutsas, MD
Pricing Table
| | Early Bird | Regular | Summit Days |
| --- | --- | --- | --- |
| Registration Day | 20 Aug - 19 Sep 2019 | 20 Sep - 17 Oct 2019 | 18 Oct - 20 Oct 2019 |
| 1 Workshop (from a Meeting, or the Group Training Workshop) | 25€ | 30€ | 35€ |
| Symposium or a Meeting | 50€ | 60€ | 70€ |
| Gold Card | 70€ | 85€ | 100€ |
| ACE Workshop | 100€ | 100€ | 100€ |
| Gold Card + ACE Workshop | 150€ | 150€ | 150€ |
Dark Fitness Marathon III: Free Entrance
2018-2019 Graduation Ceremony / 2019-2020 Opening Ceremony: Free Entrance

GMC Discounted Pricing Table
| | Early Bird | Regular | Summit Days |
| --- | --- | --- | --- |
| Gold Card | 60€ | 75€ | 90€ |
| Gold Card + ACE Workshop | 140€ | 140€ | 140€ |
Registration Methods
Online
By phone: +30 2114080912, +30 6937315131, +30 6932547541
At the Summit

Reception

during the Summit days
Payment Methods and Time
To take advantage of the reduced participation fees of the Early Bird and Regular subscription periods, the bank deposit shall be made during the time period corresponding to the relevant participation fees.

Your participation in the 7th GFS is only possible if you have fully settled your financial obligations.
Submit your registration documents and deposit receipts to the Summit Reception.